This article will show you how to use the Tbilisi Metro, a central part of Georgia's public transport that moves hundreds of commuters daily. Understanding the metro system is essential, whether you're exploring the city center or venturing out to popular destinations such as Vake Park or the Narikala Fortress.
This guide will equip you with knowledge about the Tbilisi transport, from using the Metromoney card to identifying bus stops and metro stations. With this knowledge, your travel and potential investment decisions can be both informed and efficient.
Curious to learn more about Tbilisi and other opportunities in Georgia? Contact us at NOMOS Law Firm today to explore our range of services and resources tailored to your needs.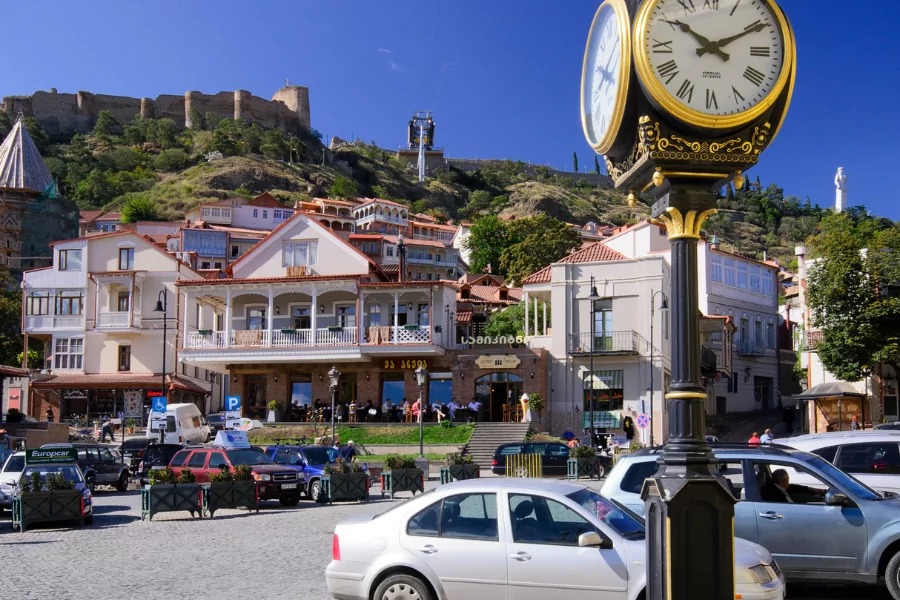 Getting Your Metromoney Card
Before you can start exploring the city using the public transport, you'll need to get your own Metromoney card. This card is essentially your ticket to Tbilisi's well-organized metro system and other modes of transport.
Besides the metro, this card is used for city buses, cable cars, and even the quaint yellow minibuses that meander through the city streets.
The card is available at any of the ticket offices or ticket machines located at metro stations. Look for a large green and white machine, it's user-friendly and offers instructions in multiple languages, including English.
Loading Your Card
Once you have your own card, it's time to add some credit. This can be done at the same ticket machines where you bought the card. If you plan to use public transportation regularly during your stay, consider the unlimited three month card or the unlimited sixth month card.
These options offer excellent value, particularly for those intending to fully explore everything Tbilisi has to offer.
For those tech-savvy travelers, you can also load your card online. Google Maps is integrated with Tbilisi's transport system, allowing you to not only plan your routes but also top up your travel card.
Navigating the Metro Stations
The Tbilisi Metro is an efficient network comprising two lines: the Saburtalo Line and the Akhmeteli-Varketili Line. These metro lines intersect at the Station Square, a hub bustling with activity in the heart of the city centre.
Each metro station has route maps prominently displayed to aid you in your journey. And remember, Google Maps is a handy tool for navigation.
With its real-time updates and detailed directions, it smoothly guides you from one location to another.
Exploring Tbilisi by Bus and Minibus
If you prefer a more scenic route around the city, then Tbilisi's buses and blue minibuses are your best bet. They allow you to get a closer look at the city's charm.
These services operate on fixed routes and stop at designated bus stops throughout the city. The same travel card you use for the metro can be used on these buses, making it easy and convenient to switch between different modes of transport.
Taking a Taxi in Tbilisi
Taxis are a convenient option when you're in a hurry or if your destination is not near a metro station or a bus stop. Tbilisi offers reliable taxi services, which you can easily book using various taxi apps.
These applications are quite intuitive and offer the option to select your preferred pick-up and drop-off points.
Taxis in Tbilisi are relatively affordable, but they do cost more than the metro or buses. They offer convenience, especially if you're traveling with more than one passenger or have heavy luggage.
Just a heads up – during peak times when traffic tends to get pretty heavy, you might find that taxis aren't always the fastest option.
Tbilisi Metro During Peak Hours
The Tbilisi Metro operates at a high frequency, especially during working hours. You'll be pleasantly surprised at how swiftly the trains arrive in succession, ensuring minimal wait times, even in the hustle and bustle of rush hour.
However, like in any city, the metro system can be crowded at peak times. If you prefer a less crowded environment, consider using the metro outside of these hours.
Exploring Beyond the City Centre
While there's plenty to see in Tbilisi's city centre, don't forget about the city's outskirts. The Tbilisi transport company operates buses to various popular destinations beyond the city center.
For instance, you can visit the Turtle Lake, located in the city's green outskirts. Or take the cable car to the Narikala Fortress, offering stunning views over Tbilisi.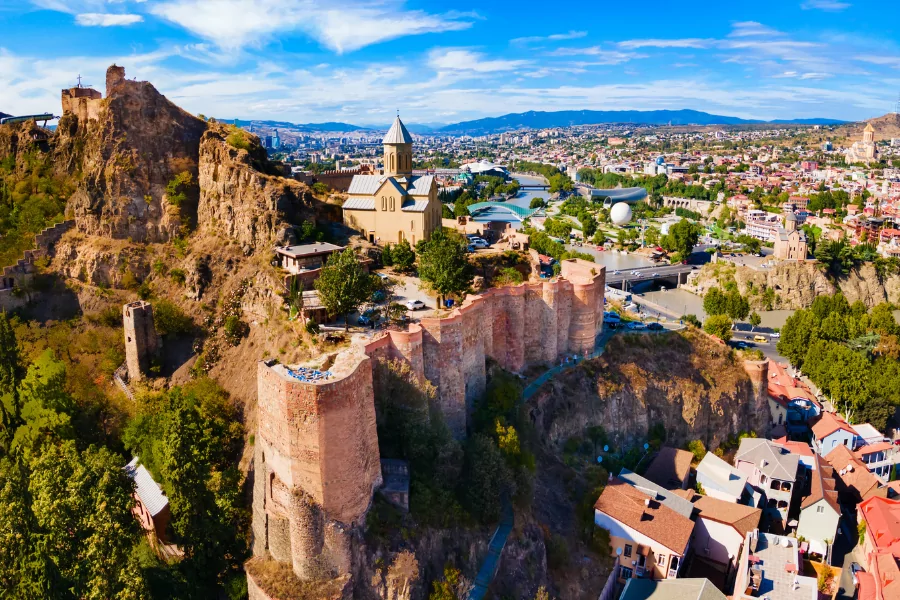 Travel Tips for Tbilisi Transport
Remember, even though Tbilisi's transport system is typically secure and dependable, it's a good idea to stay alert, particularly when it gets busy. Google Maps can be a helpful tool for navigating Tbilisi and tracking your route in real-time.
Also, remember to always check the balance on your Metromoney card before you start your journey. The card enables passengers to pay for their rides, and having sufficient balance can save you from any potential inconveniences.
There you have it, a detailed guide to using the Tbilisi Metro and the city's other public transport. With this knowledge, you'll be navigating the city like a local in no time. Enjoy your trip.
Discover Tbilisi with Ease: The City Awaits You
Armed with all the essential details about navigating the Tbilisi Metro and other modes of public transport, you're all set to dive into the heart of this lively city and experience everything it has to offer.
From the bustling Station Square to the serene Turtle Lake, and everything in between, Tbilisi promises an unforgettable experience.
Remember, whether you're catching a bus from one of the city's many bus stops, boarding a train at a metro station, or hailing a taxi for a quick ride, your Metromoney card is your best companion.
And as you embark on this journey, remember that NOMOS Law Firm is here to support all your legal and business needs in Georgia. Whether you're considering investing in Tbilisi or simply need legal advice during your stay, don't hesitate to contact us.
Discover Tbilisi at your own pace, and let us handle the rest. Safe travels.