Where would you go if you could go anywhere? This is one of the most interesting conversation starters out there. Why? Because it's so open-ended and is the best way to get fascinating stories out of someone.
It's also a great question because the answer will be completely different based on the other person's age, profession, likes, and dislikes.
A retiree may want to head to sunny beaches and palm trees like the Bahamas or the Cayman Islands. An entrepreneur may want to venture into a business hub full of opportunities like Hong Kong or Singapore. In contrast, an expat or digital nomad may be open to exploring not-so-popular destinations just for the thrill.
In essence, any country with the following qualities will win the heart of any foreign investor or entrepreneur:
Tax-friendly Regime
Business-Friendly environment
Like-Minded People/ Expat Community
Flexible Immigration Policies
Not many countries can flaunt the qualities mentioned above, though. That's why it's so hard for investors, entrepreneurs, and digital nomads to choose their next destination.
Today we will talk about Tbilisi, Georgia – the hidden gem of Eastern Europe.
Before we get into the details of living in Tbilisi, let's talk about Georgia, its history, and why we love it so much.
Georgia – Where East Meets West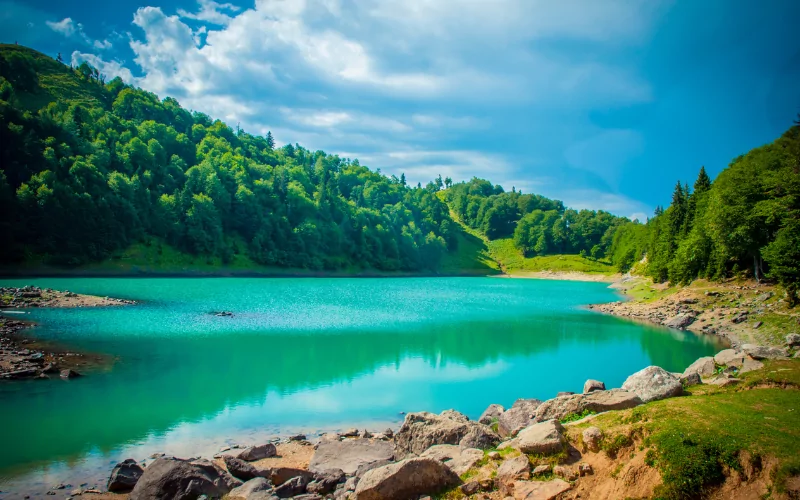 Situated at the intersection of Europe and Asia, Georgia is a country that offers the best of both worlds. Bounded by Turkey, Armenia, Russia, and Azerbaijan, Georgia offers the rich history and culture that Asia is known for and the modernity that is the feature of most European countries.
Georgia is one of the best examples of what a country could do if it decides to clean up its act. Despite its turbulent history, Georgia has emerged as one of the best jurisdictions in the region for banking and ease of doing business.
Throughout its history, Georgia has remained a part of many notable empires – the recent one being the Soviet Union. Shortly before the fall of the Soviet Union, Georgia gained independence on April 9, 1991.
For Georgia, the decade following the country's independence was marked by severe unrest, coups, and a revolution that changed the political and economic landscape of the country. During the early 90s, the parties in power realized that urbanization and capitalism were the only way forward for the country.
At the turn of the century, the government wised up, strengthened its private sectors, and passed several reforms to market Georgia as an up-and-coming jurisdiction to live, do business, and invest.
Now, two decades later, Georgia has slipped into the good books of international investors and entrepreneurs worldwide thanks to its simplified tax regime, ease of business, offshore banking, and real estate opportunities.
Speaking of hot real estate opportunities in Georgia, we can't forget the Georgian capital Tbilisi. Whether you want to visit as a tourist or make Georgia your new home, you can't do better than Tbilisi. Eager to learn more about the jewel of Georgia? Let's get right into it.
Tbilisi – City of Sun and Roses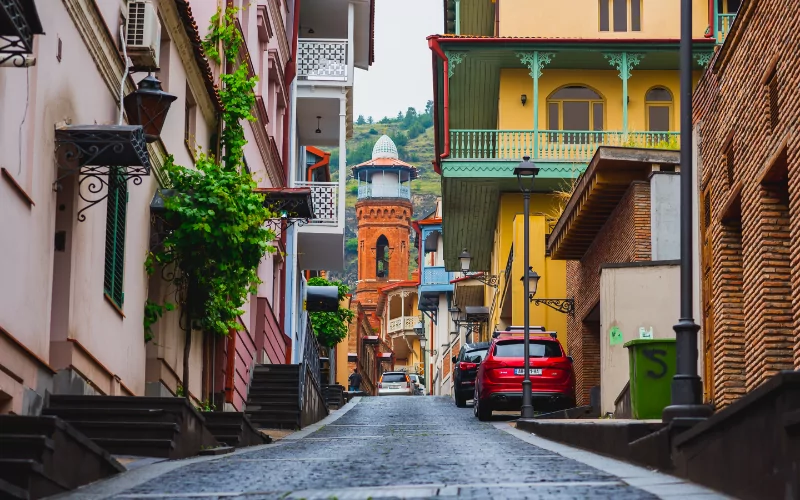 That's the thing about living in Tbilisi – you can't help but be poetic about it. The city is the perfect blend of old and new, ancient and modern. Even the terrain is versatile, with both mountainous and flat areas. If multi-faceted, culture-rich capital cities are your cup of tea, then you'll love Tbilisi.
Tbilisi is an ancient city. You'll find the remnants of the Turkish and Persian influence in its cobblestoned old town, while most modern architecture will remind you of its Soviet history. Churches, monasteries, and a fortress – Tbilisi has something to impress everyone who possesses the good fortune of visiting the City of Sun and Roses, as coined by an old Soviet song.
With a population of over a million, Tbilisi is a relatively small city, but every inch of it is filled with character and authenticity. The people are warm, welcoming, and eager to accommodate you. The primary language spoken is Georgian, although you'll find that most of the younger generation can speak English relatively fluently. Still, it's best to pick up a few common phrases in Georgian to make your life easier.
Best Places to Live in Tbilisi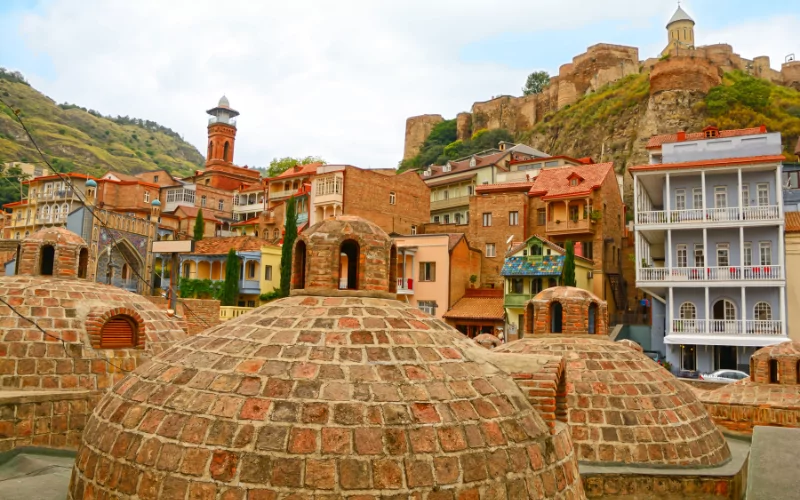 Living in Tbilisi – Neighborhoods and Districts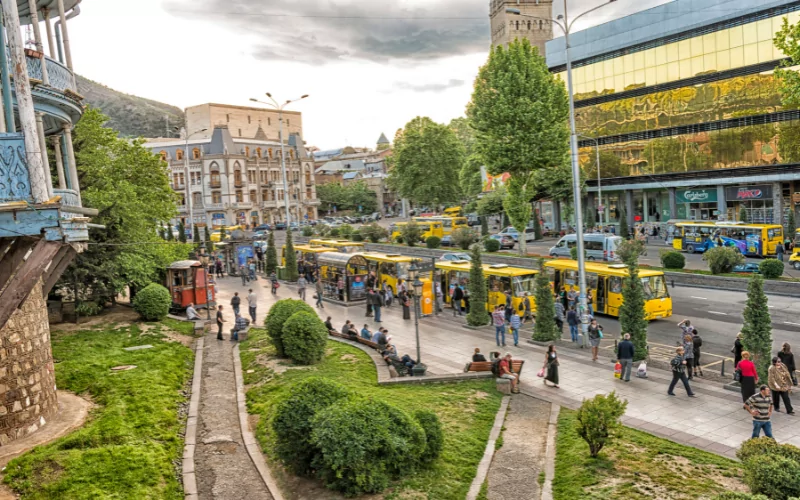 Officially, there are ten administrative districts in Tbilisi and several neighborhoods. Since the city is pretty old, in practice, you may find that many neighborhoods intersect and overlap. So, while maps are your friend, don't follow them blindly and try to learn the ins and outs of the area from a local if you can.
This guide about the best places to live in Tbilisi is also brought to you by a native born and raised in Tbilisi. So rest assured, you can't go wrong with it.
This article will discuss the following four significant neighborhoods of Tbilisi, their housing prices, atmosphere, traffic situation, and much more:
Old Town (Kala)
Mtatsminda and Vera
Vake
Saburtalo
Criteria to Assess the Neighborhoods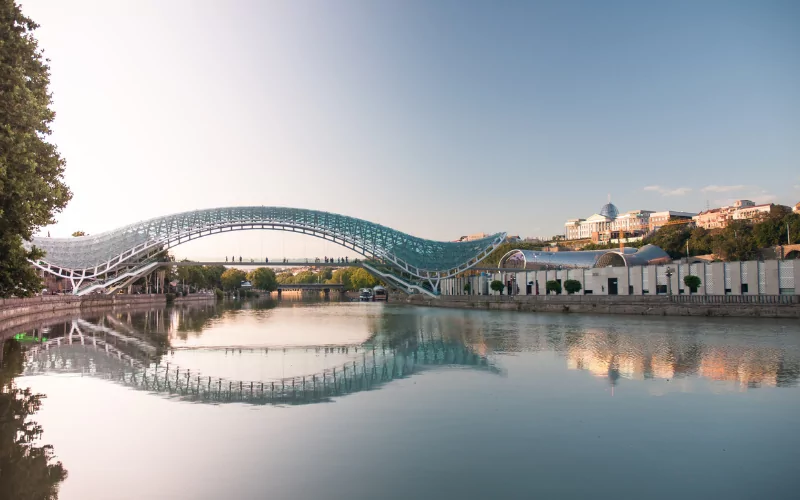 We'll assess the four Tbilisi neighborhoods mentioned above based on the following criteria:
Safety
Accessibility
Character
Facilities
Whether you are moving to a new city or hopping countries, these four characteristics ultimately define your experience in a new locality. All these factors must work together harmoniously for you to be comfortable in a new place.
Old Town (Kala)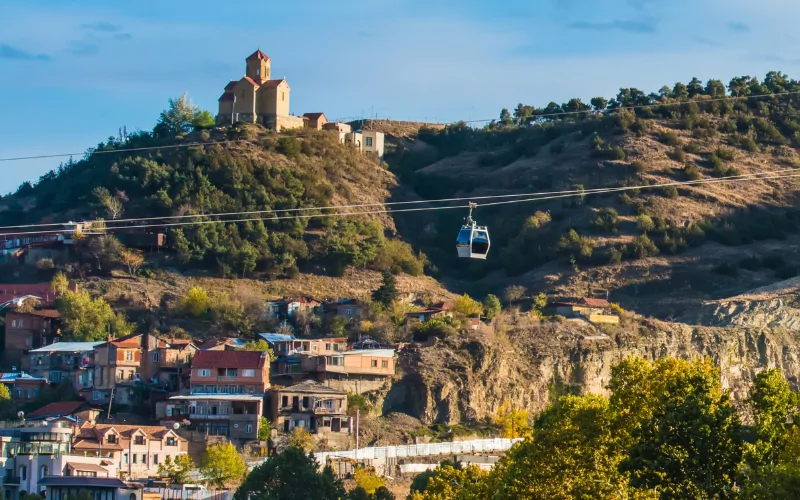 Old Town is the most historical and popular neighborhood in Tbilisi. It's also super popular with tourists thanks to its beautiful historical architecture, restaurants, and other tourist attractions.
The Old Town also looks over the Mtkvari River making it one of the best places in the city to enjoy a hearty meal and have a good time. The area also boasts many beautiful churches and the only mosque in Tbilisi. Whether you are looking for fine dining or a mid-range restaurant, you're bound to find something to your liking in this old part of the town.
At the edge of the Old Town, Liberty square connects to the Rustaveli area. Trotting up the hill, you'll find Sololaki, where restaurants, coffee shops, bars, and quaint shops are hidden by facades attracting the bulk of tourists to the snaking alleys and streets.
The Old Town is famous for the Narikala Fortress, stone-domed Persian-styled sulfur bathhouses, the National Botanical Garden, and the Georgian National Museum. The giant Mother of Georgia statue is another tourist favorite. The Narikala fortress is a masterpiece overlooking the capital and the Mtkvari River giving the city center a unique character you can't find anywhere else.
In the mid-fifth century, King Vakhtang Gorgasali discovered numerous hot springs while hunting in the area. He was so impressed that he ordered a city to be built around those hot springs – a city called Tbilisi, meaning a warm place in Georgian. Another thing about Georgia's capital city is that you'll learn tales, folklore, myths, and facts to keep you entertained for a lifetime.
But that's enough from a visitor's point of view – what about someone looking to move to Tbilisi? Right off the bat, the accommodation options in the Old Town are scarce at best. The area is touristy, expensive, and almost always brimming with locals and foreigners visiting from all over the world.
The plus point is that you'll be as close to the city's true essence as possible. The Old Town is truly where the heart and soul of Georgia lies.
The Sololaki is considered the oldest residential area in the city, where in the 19th century, Georgia's wealthiest merchants and business people built their European-styled mansions. The mansions have now transformed into the trendiest restaurants, coffee shops, and bars. Every entrance, nook, and corner in Sololaki looks nothing short of a piece of art.
The average rent for a two-bedroom apartment in or around Old Town or Liberty Square is approximately USD 500-USD 700. However, if you buy an apartment in this area, be ready to pay more than you bargained for. Don't worry – this is not a scam warning. Instead, it's just a realistic word of caution considering how old the residential buildings are. The apartments are beautiful and vintage, but they will cost you much more in upkeep and renovation.
Generally, the Old Town is a place to explore, not to settle. It can feel like an urban jungle in the summer, and traffic jams and air pollution can spoil the mood quickly. If you are looking for a homely place to settle, you should look toward other cities in Georgia or other neighborhoods in Tbilisi and visit the Old Town for a stroll or a nice dinner with family or friends.
Mtatsminda and Vera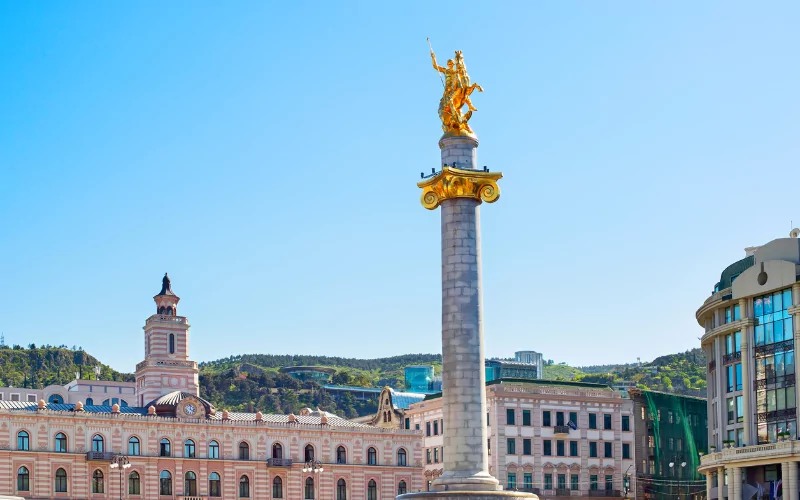 Mtatsminda means Holy Mountain in Georgian and is another large district in Central Tbilisi. It starts from Freedom Square and continues northwest along the river, with Shota Rustaveli Avenue as its main artery. If you walk up from the avenue, the beautiful narrow streets will take you to Funicular and Mtatsminda Park – also considered the highest point in Tbilisi.
Rustaveli Avenue, named after a famous medieval Georgian poet, is known as the main avenue of Tbilisi. The avenue boasts Tbilisi's most prestigious museums, galleries, and government bodies, including but not limited to the Georgian Parliament, the Georgian Academy of Sciences, the Georgian Museum of Fine Arts, and the Opera Theater. Owing to its political significance Rustaveli Avenue is the main ground for several political protests every year.
Since the location is so central, you can expect the cost of living in Mtatsminda to be relatively high. The monthly rent for a two-bedroom apartment in Mtatsminda or Vera is around USD 450-USD 650.
Let's talk about Vera. Vera is a historical residential area on the west bank of the river. The main points of attraction in Vera are Vera Park and the Tbilisi Concert Hall. The inner part of Vera is lined with cafes, bars, fashion boutiques, bakeries, and co-working spaces, making it one of the city's most popular fine dining spaces. Character-wise, Vera is very trendy and upmarket, and that's why you won't find cheap accommodation here, but the place is stunning to buy or rent an apartment in and will surely give you a good run for your money.
Most Upper Vera offers breathtaking city views but is not easily accessible through public or private transport. The area is hilly, with narrow streets, and the nearest metro line is at Rustaveli.
Vake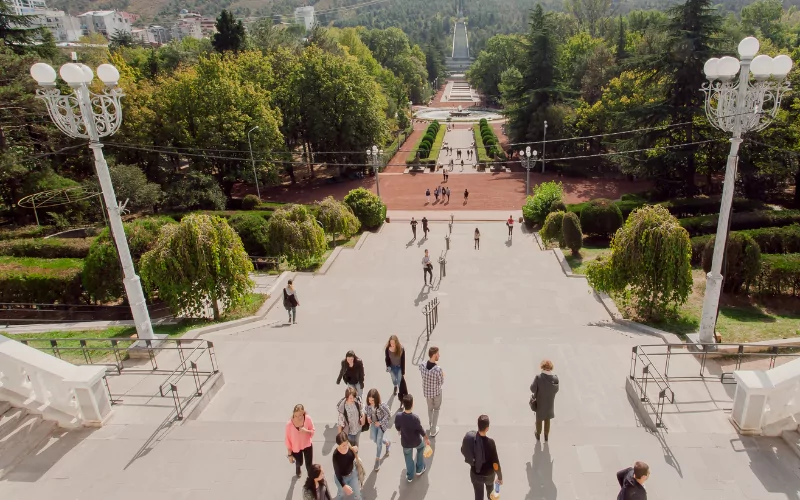 Vake is the up-and-coming neighborhood of Tbilisi, full of newly built and ongoing construction projects, including upscale apartments, luxury hotels, and cafes. Vake is home to the city's designers and noble families, making it known as Tbilisi's most sophisticated neighborhood. Vake wasn't always the trendiest city hotspot, though. During the Soviet era, Vake was home to the nation's politicians and scientists. The neighborhood only recently emerged as the trendiest it-spot in town.
The main street in Vake is the newly built Chavchavadze Avenue, full of facilities. Vake also boasts the Vake Park, an ample green space filled with children's play areas, fountains, and walking trails, making it an excellent spot for families and outdoor enthusiasts. If you keep walking up the mountain, you'll find yourself at Turtle Lake – a small lake at the mountain top surrounded by cafes and restaurants.
At Vake, you'll find buses as the primary public transportation. People from North America or Western European countries will find that the transportation costs are far cheaper than what they are used to. Overall, the area is an upscale neighborhood with little historical importance compared to the other settings like the city center or Vera but offers excellent value regarding family relocation. Expect to pay around USD 500- USD 700 monthly rent for a two-bedroom apartment in Vake.
Saburtalo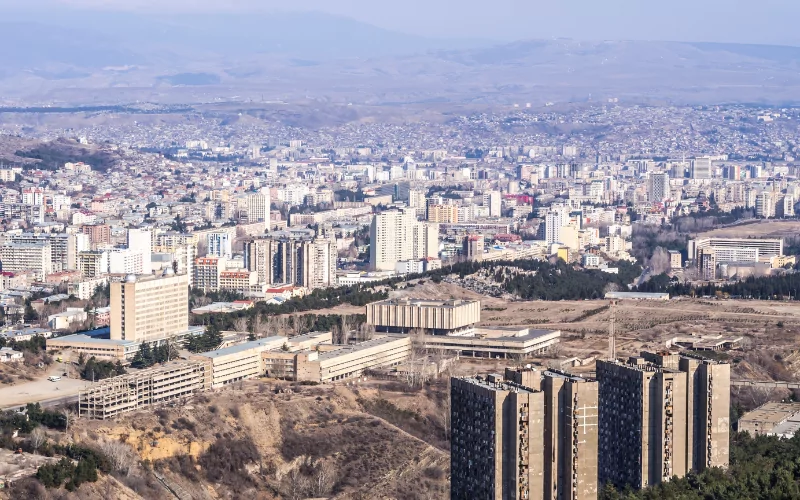 Saburtalo is one of the city's largest, central, and easily accessible neighborhoods. You won't find many historical spots or nightlife activities in Saburtalo. If you are inclined toward partying or the touristy aspect of the city, you'd better look at the Sololaki area or even Vera.
Saburtalo is best for families, students, and young entrepreneurs looking to live and work in Tbilisi. The area also has an enormous shopping mall. The new trendy area near Saburtalo is Lisi lake. Perfect for families, outdoor enthusiasts, and pet owners, Saburtalo offers a chance to settle in a quiet neighborhood with fresh air, greenery, and easy access to transport. On average, expect to pay around USD 300- USD 600 monthly rent for a two-bedroom apartment in Saburtalo.
Benefits of Living in Tbilisi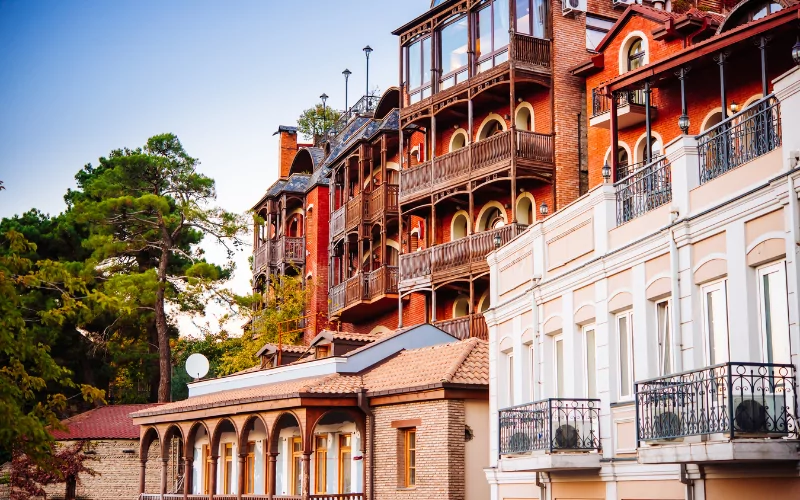 Rich Culture and History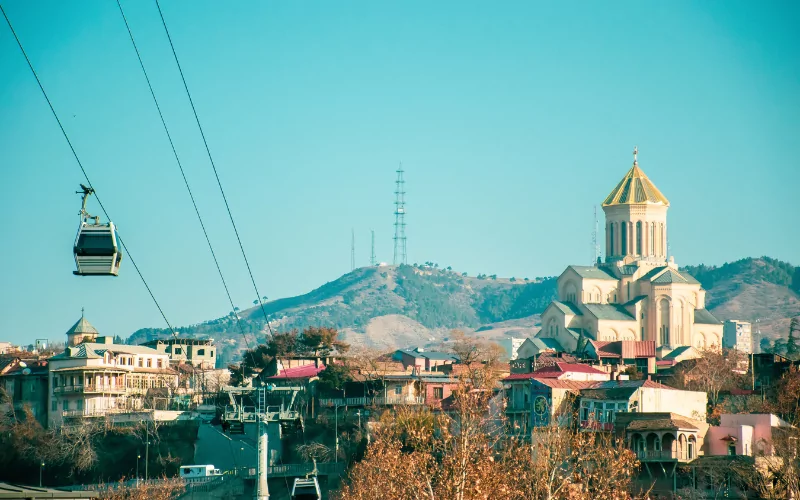 The name of the city alone is enough indication of its historical roots and significance. If that weren't enough, you'd find plenty of beautiful churches and stone-cobbled streets in Tbilisi telling stories about the capital city's Persian and Russian history.
The stunning Narikala fortress stands tall atop the city overlooking the river, giving everyone who steps foot in the city a taste of authentic Georgian history. Culturally, the people are diverse, welcoming, and easy-going. Tbilisi is one of the best cities at the intersection of Europe and Asia that offers the perfect blend of modernity and old-world charm, complete with a laid-back lifestyle.
Simplified Tax Regime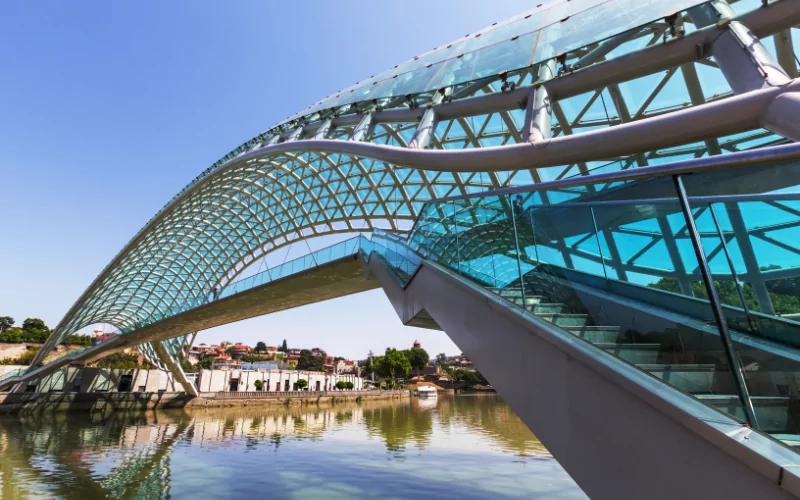 In the 21st century, Georgia realized the only way forward was to strengthen the private sector. A significant part of those efforts was to create a simplified tax regime attractive to foreigners. The idea was that by simplifying the tax regime, the foreigners would consider moving their tax residency to Georgia, bringing their business and foreign investment into the country.
As a territorial tax jurisdiction, Georgia doesn't tax foreign-sourced income. As for the locally sourced income, the rates are as follows:
Income Tax: 20 percent
Value-added Tax: 18 percent
Corporate Tax: 15 percent
Capital Gains and Interest: 5 percent
Property Tax: 1 percent
Did you look at the property tax? The meager property taxes on top of the booming real estate market makes Tbilisi one of the best capital cities in the world to invest in.
Diverse Neighborhoods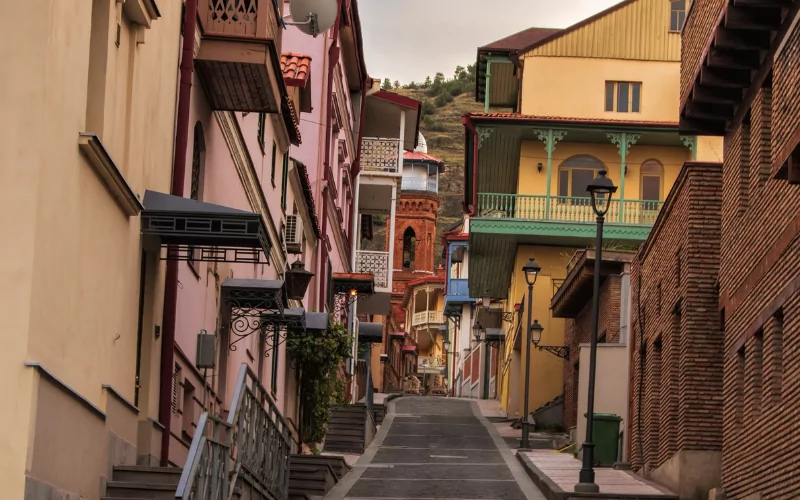 No explanation is needed for this one. From the Old Town to the Saburtalo, Tbilisi neighborhoods are as diverse as they come, with each area flaunting its unique character.
To the history fanatic, the Old Town is the place to be. For the family man, Saburtalo could be the place to call home where they can enjoy the greenery, fresh air, a quiet life, and quality time with their loved ones. For the people with a taste for luxury, Vera or Vake could be it. No matter your preference, Tbilisi puts its best foot forward to offer a place for you to call home. Everything from the transportation costs to the food prices is affordable enough, but the city still has many places for you to splurge and indulge in the luxuries of life.
Best Wine and Dine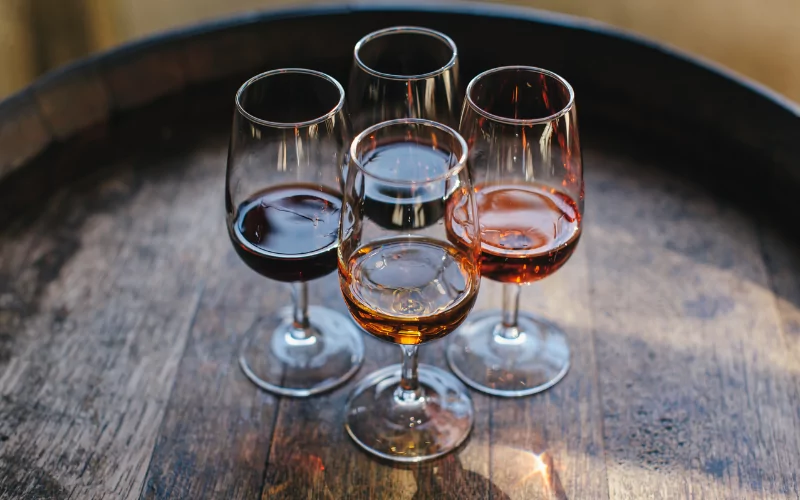 In addition to being a hospitable country, the international food scene in Georgia, especially Tbilisi, is unparalleled. It's no surprise why the capital city is filled with cafes, bars, and restaurants. The country takes pride in its cuisine and is known as one of the oldest wine regions in the world. You'll find French, Russian, Turkish, and Mediterranean influences in Georgian cuisine.
Be it local produce, fresh fruits, fine dining, or exquisite wine, Georgia will never fail to impress you beyond measure.
Investment Opportunities
Georgia's stable political environment, booming real estate, and low taxes make for a perfect hub for investment opportunities. The country has made countless efforts to make itself favorable for foreign investors. Investors have, in turn, noticed Georgia's ease in everything from opening offshore bank accounts to starting a company or buying relatively cheaper real estate.
Business Friendly Environment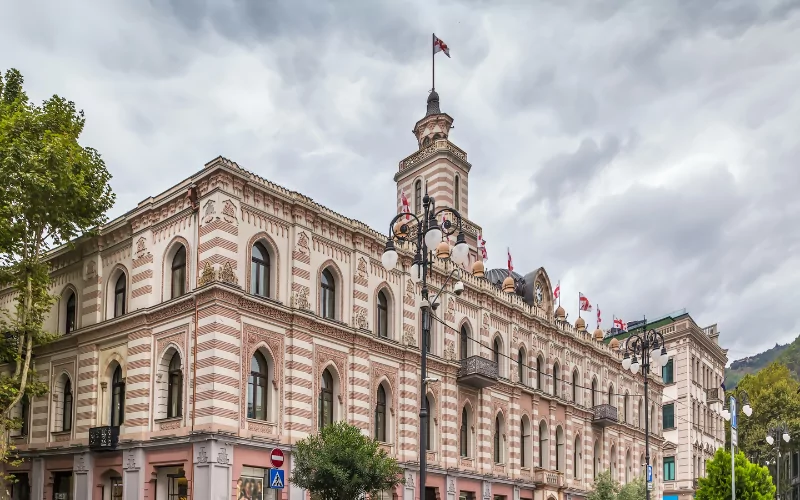 Before it discontinued its Doing Business Report in 2020, the World Bank ranked Georgia pretty highly in Ease of Doing Business owing to its business-friendly policies, large industrial parks, highly skilled workforces, free trade zones, etc.
Living in Tbilisi – A Clear Yes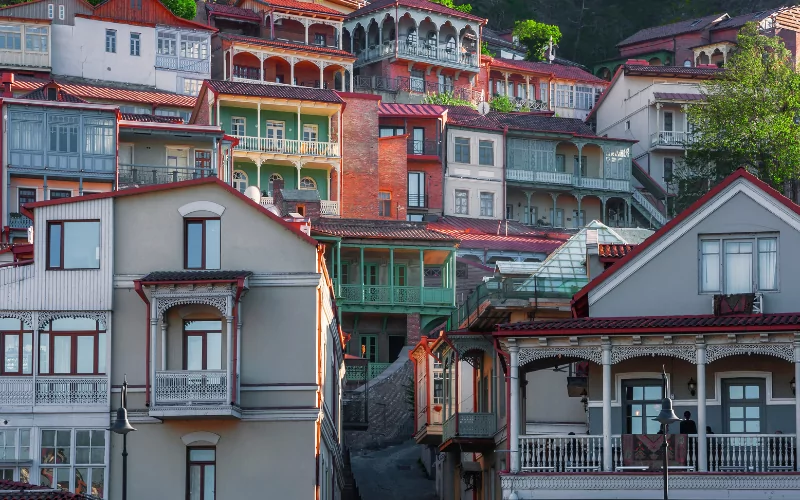 Considering the low taxes, diverse neighborhoods, affordable cost of living, great food, and easy-going lifestyle, the decision to live in Tbilisi seems to require no effort.
In addition to everything, Georgia is also pretty zealous about joining the European Union. Although the actual membership will not happen anytime soon, the attitude of the government and the mass population is pretty pro-European, making for an easy transition for European people looking to move to Tbilisi.
Reading this article, if you've caught yourself thinking about moving to Tbilisi or even visiting Georgia, go ahead and try it.
Still, if you are hesitant about making the big jump, you don't have to do it alone. Reach out and let us help you navigate this path.