Located in a region that is rich in history, the capital of Georgia – Tbilisi, is a perennial favorite among travelers for years. This article aims to offer insights into the city's essence and explore what sets it apart.
Whether your interest lies in exploration or business, Tbilisi's intriguing blend of antiquity and modernity is bound to arouse your curiosity.
Exploring the city's geographical arrangement provides a profound insight into its strategic significance and the factors that have shaped its development over time. As you discover the various reasons to visit or invest in Tbilisi, you will find yourself captivated by its enthralling appeal.
Ready to explore Tbilisi? Visit NOMOS Law Firm Georgia to explore the legal services we offer to facilitate your endeavors in Tbilisi and beyond.
Let the adventure begin.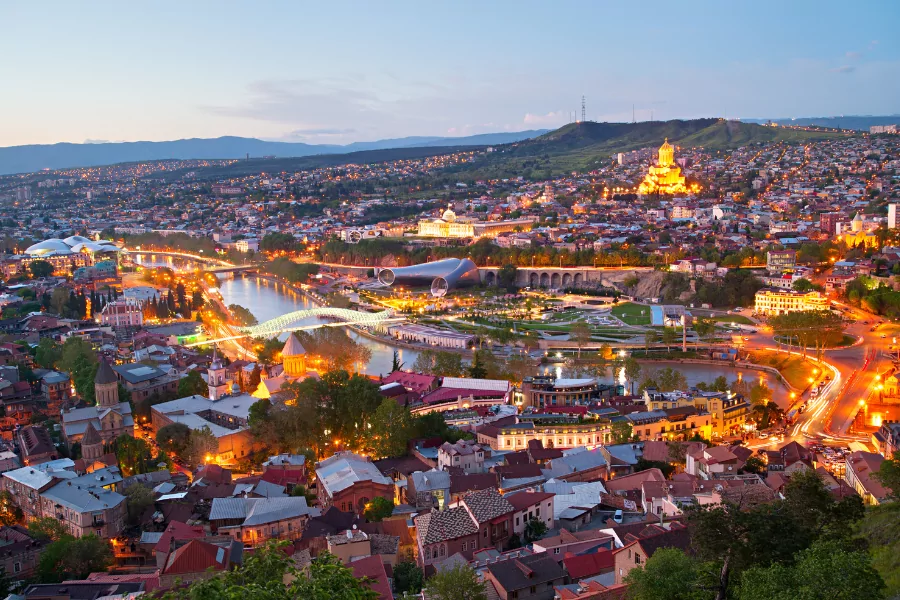 Discovering Tbilisi, Georgia: A Journey into its Unique Location
Tbilisi, the delightful capital of Georgia, can be found in a distinctive setting that has played a vital role in shaping its storied past, vibrant culture, and unmistakable character.
In this section, we will walk you through some fascinating geographical details about Tbilisi's location, making it an ideal destination for adventurous first-time travelers:
The South Caucasus: Tbilisi is positioned in the South Caucasus region, which spans across the boundary separating Eastern Europe from Western Asia.
Bordering Nations: Georgia is neighbored by Russia to the north, Azerbaijan to the southeast, Armenia to the south, and Turkey to the southwest, resulting in an intriguing blend of cultural influences.
Riverbank Charm: Tbilisi is nestled along the Mtkvari River, which meanders through the city's core, providing breathtaking views and charming walking trails.
Varied Terrain and Architecture: With elevations varying from 380 meters (1,247 feet) to 770 meters (2,526 feet) above sea level, the city boasts a diverse terrain and a medley of architectural designs tucked into the hillsides.
Sulfuric Hot Springs: Tbilisi is renowned for its therapeutic sulfuric hot springs, which have drawn visitors since antiquity and continue to provide healing benefits at the city's historic bathhouses.
Crossroads of Cultures: Tbilisi's pivotal position along the ancient Silk Road has had a significant impact on its evolution, giving rise to a harmonious fusion of Eastern and Western elements that can be seen in its food, architecture, and traditions.
Over the years, Tbilisi's geographic position has paved its role as a major hub for culture, economy, and politics. Today, the city is a burgeoning tourist destination that invites first-time visitors to uncover the enchanting secrets of its storied past and vibrant present.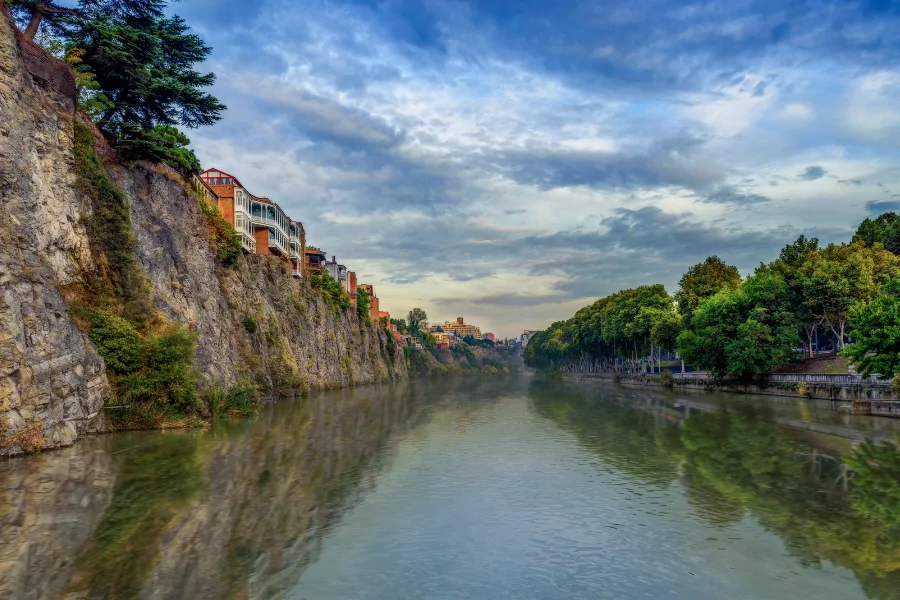 Embark on Your Tbilisi Adventure
Now that you've discovered the unique location and fascinating features of Tbilisi, Georgia, it's time to experience the enchanting city for yourself.
Whether you're seeking travel adventures, cultural experiences, or investment opportunities, Tbilisi offers a captivating journey into a world where Eastern and Western influences harmoniously intertwine.
As you plan your visit or consider investing in this thriving destination, remember that we at NOMOS Law Firm Georgia are here to support you.
Leveraging our in-depth knowledge of the region, we offer the legal guidance necessary to help you successfully pursue your endeavors in Tbilisi and beyond. Contact us today and allow us to assist you in your legal needs when visiting Tbilisi.